Συνέδρια
Σελίδα:

1

2
---
Joint Eurocorr 2017 & 20th ICC & Process Safety Congress 2017
RNanoLab attended the Joint Eurocorr 2017 & 20th ICC & Process Safety Congress 2017 that was held in Prague, Czech Republic on September 3–7, 2017.
With attendance of 1500 delegates, the Congress consisted of plenary lectures by world-renowned corrosion specialists, over 20 pointed keynote lectures and about 800 oral presentations in fifteen parallel sessions.
RNanoLab participated with 3 oral presentations disseminating the ongoing research activities within the following projects:
- BYEFOULING
Title: "Corrosion and mechanical performance of a novel antifouling system containing nanoreservoirs" - A. Trompeta, I. Kartsonakis, E. Koumoulos, D. Mata, M. Ferreira, F. Maia, J. Tedim, C. Charitidis
- SAFEJOINT
Title: "Improvement of corrosion behaviour of dissimilar friction stir welded aluminium alloys reinforced with nanoadditives" - I. Kartsonakis, D. Dragatogiannis, E. Koumoulos, C. Charitidis
- LORCENIS
Title: "Corrosion behaviour, mechanical integrity and electrical resistivity of bulk reinforced concrete"
E. Karaxi, I. Kartsonakis, I. Kanellopoulou, C. Charitidis.
---
13ο Συμπόσιο Χρωμάτων
13o ΣΥΜΠΟΣΙΟ ΧΡΩΜΑΤΩΝ
Έρευνα και Τεχνολογία στα Χρώματα, Βερνίκια & Μελάνια
Οικοδομώντας ένα μέλλον με διάρκεια
Διεξαγωγή:

Εθνικό Μετσόβιο Πολυτεχνείο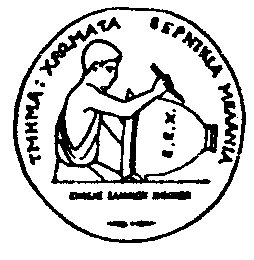 Το επιστημονικό τμήμα Χρώματα Βερνίκια Μελάνια της Ένωσης Ελλήνων Χημικών σε συνεργασία με τον Τομέα ΙΙΙ: Επιστήμης και Τεχνικής των Υλικών, της Σχολής Χημικών Μηχανικών του ΕΜΠ, προσκαλεί τους ενδιαφερόμενους, να υποβάλουν τις εργασίες τους για το 13ο ΣΥΜΠΟΣΙΟ ΧΡΩΜΑΤΩΝ. Αυτή η σημαντική συνάντηση για την τεχνολογία της Βιομηχανίας Χρωμάτων, με τίτλο «Έρευνα και Τεχνολογία στα Χρώματα, Βερνίκια και Μελάνια, Οικοδομώντας ένα μέλλον με διάρκεια» θα πραγματοποιηθεί στις 15-16 Μαρτίου 2018 στην Αθήνα.
Καινοτόμες εταιρείες, εμπειρογνώμονες από εταιρείες χρωμάτων και πρώτων υλών, καθώς και ακαδημαϊκά/κρατικά ερευνητικά ιδρύματα καλούνται, να υποβάλουν τις υψηλού επιπέδου τεχνικές προτάσεις τους παρουσιάζοντας τα αποτελέσματα της έρευνάς τους, για την πρόοδο του κλάδου των χρωμάτων, των μελανιών και των βερνικιών.
Σημαντικές Προθεσμίες
Υποβολή Τίτλου και περίληψης: 27 Οκτ 2017
Κοινοποίηση αποδοχής στους ομιλητές: 10 Νοε 2017
Υποβολή πλήρους Τεχνικού Άρθρου για τα πρακτικά του συνεδρίου: 22 Δεκ 2017
Πού να τα υποβάλετε?
Υποβάλετε τον τίτλο και την περίληψή σας:paints@eex.gr
Οι διοργανωτές του Συμποσίου θα επιλέξουν προτεινόμενες παρουσιάσεις με βάση τα ακόλουθα κριτήρια: επιστημονική σημασία, καινοτομία και πιθανή προστιθέμενη αξία στη βιομηχανία. Οι συγγραφείς ενθαρρύνονται, να αναφέρουν στην περίληψη τους τη μοναδικότητα και πρωτοτυπία της έρευνάς τους. Οι φοιτητές ενθαρρύνονται και προσκαλούνται να παρουσιάσουν την έρευνά τους. Για περισσότερες πληροφορίες, ελέγξτε τα συνημμένα αρχεία:
Event Link: https://www.eex.gr/news-rss/1849-13o-sumposio-xromaton
Email: paints@eex.gr
Website: http://www.eex.gr/about/epistimonika-tmimata/xromaton-bernikion-melanion
LinkedIn:Paints, Varnishes & Inks Division of Greek Chemists Association
Facebook Group: https://www.facebook.com/GreekPaints/
Εκδηλώσεις τμήματος: https://www.dropbox.com/sh/rzt3rnbz0jokonk/AAAHEQESe2_6Iqf11G_V7POha?dl=0
---
FRIMACHAT 2017 11-13th July 2017 University of Limerick, Limerick, Ireland
Frontiers in Materials Characterisation towards Industrial Translation (FRIMACHAT) 2017
11-13th July 2017
University of Limerick, Limerick, Ireland
INTERNATIONAL WORKSHOP ORGANISED BY
Modelling Simulation And Innovative Characterisation (MOSAIC) Group, Bernal Institute, University of Limerick, Ireland and European materials Characterisation Council (EMCC)
Chair: Prof. Tewfik Soulimane, Bernal Institute, University of Limerick
Co-Chairs: Prof. Syed A. M. Tofail, Dr. Christophe Silien and Engr. John Mulcahy, Bernal Institute, University of Limerick, Ireland
Workshop Coordinator: Dr. Karrina McNamara, Bernal Institute, University of Limerick, Ireland
Industry Liaison: Dr. Ehtsham Ul Haq, Bernal Institute, University of Limerick and Analog Devices International, Limerick
Contact: mosaic@ul.ie
To view the programme of events click here /mssi/sites/default/files/FRIMACHAT%20PROGRAMME%20update%20_0.pdf
---
18th International Congress on Marine Corrosion and Fouling – ICMCF 2016
18th International Congress on Marine Corrosion and Fouling – ICMCF 2016
June 19-24, 2016 – Toulon, France
NTUA participated with oral and poster presentations in the unique workshop "Bridging the gap between academia and industry – A collaborative enterprise" that was held under the auspices of the 18th ICMCF in Toulon, co-organized by BYEFOULING and SEAFRONT EU funded projects, both challenging a wide spectrum of aspects related to marine fouling.
ICMCF highlights the cutting edge knowhow in understanding biofouling and corrosion in the marine environment. Academia and industry have been fruitfully collaborating together in the field of biofouling, aiming at pushing the boundaries and creating powerful team capable of driving innovation and economic growth and revenue. While moving forward, there needs to establish an open dialog and partnership between industry and academia, also taking into account relevant IP issues, that in order to understand and address pressing problems of the 21st century and securing a healthy and sustainable marine environment.
---
European Technical Coatings Congress (ETCC) 2016
Advances in Coatings Science and Technology
For the first time, ETCC is being held in Britain alongside the UK's leading coatings show, Surfex, which runs from 25th - 26th May in Hall 8 at the NEC, directly below the congress suites.
Birmingham proudly describes itself as the Heart of England, located in the centre of the country and steeped in history, culture, science and industry. With easy travel to nearby Stratford-Upon-Avon, Warwick Castle and the Malvern Hills. The NEC is the UK's No 1 venue for exhibitions, conferences and concerts: superbly connected to Birmingham International Airport and Railway Station and with excellent hotels close by.
The congress is co-organised by The Oil and Colour Chemists' Association (OCCA) and the Federation of Associations of Technicians for Industry of Paints in European Countries (FATIPEC).
ETCC anticipates participation of some 300 manufacturers, raw material suppliers and academics.
---
GOCarbon Fibre 2015
26 - 28th October 2015: Smithers Rapra is excited to announce that for the second consecutive year, GOCarbonFibre is set to return to the EU in autumn 2015. Our conference this year will take place amongst the bustling and cosmopolitan city of Manchester for a dynamic four-day high level programme, addressing the most relevant carbon fibre topics.
---
CARBON 2015
12 -17th July 2015: The conference is hosted in the famous city of Dresden and takes place for the second time in Germany. The conference provides the platform for researchers to present recent results, for discussions and the exchange of information from the various fields of Carbon. Particular emphasis will be given to an intensified exchange between academia and industry.
---
ICEAF IV - 4th International Conference of Engineering Against Failure
24 - 26th June 2015: The scope of the Conference is to attract interdisciplinary work dedicated to the design against and prevention of engineering failure. Works are expected to cover a number of different technological areas including Aeronautics, Construction, Automotive, Bioengineering, Recycling, etc.
---
NEWSPEC 1st Summer School
14 - 18th June 2015: NEWSPEC 1st Summer School –1st European Course on Next Generation Carbon Fibres Processing – will provide well-documented scientific training to young researchers and professionals in the field of Carbon Fibre production using novel cost-effective and environmental-friendly techniques, with the aim to improve several stages of the traditional production line (from precursors to functionalization and characterization of the fibres). Held in Patra, Greece.
---
Euronanoforum
9 - 12th June 2015: The EuroNanoForum 2015 is a meeting point for industry, science and policy. Strengthening European competitiveness and supporting its re-industrialisation, it showcases innovation as driver for economic growth, presents new technologies arising from nanotechnologies and advanced materials, and discusses the new applications and commercialisation potential for these technologies.
---
10ο Πανελλήνιο Συνέδριο Χημικής Μηχανικής
4-6th June 2015: Σε αυτό το 10ο Συνέδριο, αρχή ενός 4ου κύκλου συνεδρίων, οι προσπάθειες θα επικεντρωθούν στην προβολή των διεπιστημονικών περιοχών, στις οποίες επεκτείνεται η Χημική Μηχανική, όπως και στην ενίσχυση των σχέσεων με την Βιομηχανία. Οι στόχοι αυτοί αντικατοπτρίζονται τόσο στην επιλογή των προσκεκλημένων ομιλητών όσο και στην διοργάνωση ειδικών συνεδριών βιομηχανικού ενδιαφέροντος.
---
European Coatings CONGRESS
20 - 23th April 2015: The European CONGRESS attracted nearly 700 delegates from 42 countries to listen to 144 top-notch presentations from globally renowned coatings experts. By reaching these figures the congress underline its position as the leading coatings exhibition and congress worldwide. The presentations at the congress showed the diverse modern coatings solutions have to offer: functional, safe, eco-friendly, biobased and sustainable. Held in Nuremberg.
---
SUN-SNO-GUIDENANO Sustainable Nanotechnology Conference 2015
March 9-11th 2015: The SUN-SNO-GUIDENANO Sustainable Nanotechnology Conference 2015 is a forum for nanotechnology researchers, industry, and regulators to present and discuss research findings on the interface between nanotechnology and sustainability. It is being jointly organized by the Sustainable Nanotechnology Organization (SNO), a USA based non-profit organization dedicated to advancing sustainable nanotechnology, and two large EU FP7 nanosafety projects SUN and GUIDENANO. Held in Venice, Italy.
---
COST Meeting - TD1204
October 10-11th, 2014: participation in the COST Meeting - TD1204 (City Hall, Syracuse, Sicily, Italy), which includes three working groups that deal with Synthesis & Characterization of ENMs, Eco-/ Toxicity of ENMs and Quantitative Nanostructure – Toxicity Relationships Modelling (QNTR). Particular emphasis will be given to the physicochemical properties and metrology of ENMs, in order to control and optimize the synthesis routes.
---
IUMRS-ICA2014
August 24-30th, 2014: participation in the IUMRS-ICA2014 (University of Fukuoka, Fukuoka, Japan) during which the effect on human health and environment of ENMs, and most precisely of carbon based nanomaterials (Carbon Nanotubes – CNTs) was presented. The IUMRS-ICA2014 conference was particularly oriented in the eco-technology and sustainability, with respect on the environment, in order to motivate people awareness with save energy and natural resources issues, by means of innovation in the field of materials science and technology.
---
Σελίδα:

1

2